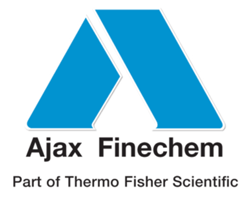 The Ajax Finechem product range ;
Includes ACS grade reagents, high purity acids and solvents for HPLC, GC, Spectroscopy and Pesticide Residue analysis, volumetric solutions, pH buffer solutions ICP & AAS standards, certified ultra pure acids for trace metal analysis and a range of products for specific applications.
Ajax Chemical Grades

UNIPURE® Extra Pure Analytical Reagents

Ultra pure reagents that exceed ACS specifications are used in highly sensitive analysis. These reagents are ideal for trace metal analysis and as reference standards.

UNIVAR® Analytical Reagents

UNIVAR® products have long been recognised as the standard for analytical reagents in Australia and in overseas markets. In many cases, the purity conforms to and exceeds ACS.

UNIVOL® Analytical Volumetric Solutions

UNIVOL® ready to use analytical volumetric solutions are standardised to specific concentrations normally used in laboratory analysis.

UNILAB® Laboratory Reagents

UNILAB® products are reagent quality chemicals suitable for general laboratory work, and in most cases, meet BP and/or USP standards.

UNICHROM® HPLC Reagents

UNICHROM® product range is specially made for high performance liquid chromatography. The range includes high purity solvents, tested to meet strict UV absorbance specifications as well as ion pairing reagents.

SPECTROSOL® Spectroscopy Reagents

SPECTROSOL® reagents are specifically made to conform to strict quality specifications for UV, Visible and Atomic Absorption Spectroscopy (AAS) techniques.

TECHNICAL Grade

TECHNICAL General purpose reagents for qualitative work
Contact Us today with your Request!